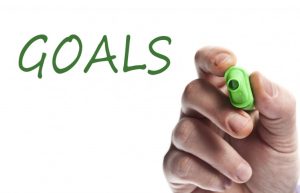 Developing and growing teams is top of mind at Speakers you Need (SyN), especially in January. Coming alongside clients as a team-building partner is what they do: enhancing skills, improving environments, navigating change, helping others set goals. SyN's Kerry Chaffin, Senior Training Consultant and Regional Director in Kansas City, believes goal setting is a great way to use a necessary function as a team building opportunity and one that should inspire creativity and imagination, not just generate lists and timelines. Her goal setting courses cover the skills needed to be an effective coach and mentor but also help team members unite around a vision, much as a winning team unites around the dream of capturing a title.
What makes Chaffin's goal-setting seminars unique and inspiring? "I lead managers of teams and often the teams themselves through the concrete and practical steps of goal setting, but I also lead them through exercises that allow participants to tap into their passion for a project. We look at both the SMART approach to goal setting as well as the HARD approach."
While many companies are familiar with SMART goal setting – outlining goals that are Specific, Measurable, Attainable, Relevant and Timely – Chaffin brings in another layer, inspirational elements that can truly energize teams. This second component – HARD Goal Setting – gives teams the passion to achieve difficult goals together. It adds feeling and emotion to the equation, helping people connect with what drives motivation. They engage the emotional side of the brain, which leads to greater success and higher performance. Think of it is as bringing emotional intelligence to goal setting. In a nutshell, HARD Goal Setting will encompass these principles:
HEARTFELT Looking at why you care about your goal allows team members to build an emotional attachment to it. This step helps identify what motivates you and your team and then to explain your goal in those terms.
ANIMATED This step involves visualizing what it will look like if you achieve your goal. Team members use imagination to help create a picture of the desired results. Teams are encouraged to incorporate size, color, shape, setting, background, lighting, emotion, and movement in their vision.
REQUIRED Defining why your goal is necessary now is an important step in process, helping to create a sense of urgency through a clearly stated case.
DIFFICULT The goal should require you and your team to use all talents and then some. The goal should push team members to learn something new. Goals should be challenging but not impossible.
Chaffin often works with teams to integrate the SMART and HARD approaches into one, allowing organizations to align goals to business strategy and helping teams set goals that are not only specific but also animated, measurable and heartfelt, difficult yet attainable, relevant and required. Chaffin summarizes the benefits of using goal setting as a team building exercise. "Goal setting gives you long-term vision and short term motivation. It's a process of working together toward what we want, but it is also truly the key to unlocking our potential, both personally and for our organizations," she says.
Speakers you Need (SyN), a professional development and live stand-up training company headquartered in Kansas City with more than 100 subject matter experts positioned throughout North America, recently opened regional offices in Seattle, Chicago and Pensacola, FL, and Wasilla, AK. For more information about team building, goal setting, mentoring or any topic facing businesses or organizations today, please contact Rocky White, SyN CEO and President at 913.815.1494 or http://speakersyouneed.com/.