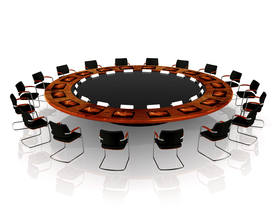 Strategically Seated: HR Pros Take Their Place at the Financial Roundtable
By Rocky White, CEO, The SyN Learning Institute
Gone are the days when the human resource point of view isn't a valued and necessary voice in an organization's strategic and financial decision making. The current conversation is about strategic human resource management, moving HR beyond managing employee transactional functions only to a place of influence at the forecasting table.
As organizations utilize all resources to generate more sales, higher profits and more fully realized missions, leaders are looking to all departments—including HR—to help them achieve their goals. Sixty percent of executives expect HR to partner with others in the organization to improve company performance. HR professionals are stepping up to the challenge, taking their place at the executive table and delivering against key objectives.
In a recent survey conducted by the Society for Human Resource Management, "HR's Evolving Role in Organizations and Its Impact on Business Strategy," one-half of HR professionals reported that their organization's business strategy contributed to the decision of whether to staff, outsource or eliminate various HR roles and responsibilities, suggesting an alignment of HR function staffing decisions with business operating plans.
Four-time author and leading financial and business acumen expert David Sanders, Ph.D., says it is a lack financial understanding that has historically kept HR professionals out of an organization's strategic discussions and decision making. For nearly twenty years, Sanders has worked with HR professionals, equipping them with an understanding of the financial and business side of the equation and merging those with the people side. "I take the accounting and financial functions of an organization and weave them into that of human resources. I make the terms understandable so that HR can measure performance and understand the financial impact of HR on a company's bottom line."
            Sanders says it is HR managers who have driven this push for increased business understanding, and he tailors his training to meet their specific needs. "What I hear over and over again is that HR is being invited into the financial conversation, but, once there, those managers often 'glaze over' when the numbers come out." Sanders takes financial and accounting terms – everything from ratios to how to analyze financial statements – and puts them into understandable English. "My goal is that HR managers leave my training with a new understanding and vocabulary that translates from the smallest to the largest of financial contexts."
            Sanders, who is widely considered one of the nation's leading experts on building business acumen into organizations and individuals, has worked in a broad array of financial settings, large to small, international to domestic. He brings to his training a wealth of experience and expertise gained from 36 years as a financial executive, including posts as CFO and Senior Partner at accounting/tax/auditing firms in the U.S. In addition, Sanders is a leading Sarbanes–Oxley (SOX) trainer and has worked with numerous fortune 500 companies on SOX compliance, both domestically and internationally.
The SyN Learning Institute is pleased to partner with Sanders in offering a four-part live virtual training course, "Financial Management for Non-Financial Managers," covering Financial Statement Modeling and the important accounting functions of an organization and how they integrate with human resource operations. The second session is May 13, and will cover level two of finance and accounting for HR professionals. Please click the image below for a more in-depth course description.
 As human resource functions become more strategic and accountable to an organization's numbers and metrics, they must employ best-in-class practices, which includes outsourcing the learning function. Learning Outsourcing, as outlined by SHRM's "HR Outsourcing's Next Wave," combines "the benefits of shared services and advanced technology to create breakthrough impact on the cost, quality, and availability of learning across the global enterprise." I couldn't have said it better than SHRM, but I can say it more simply: through outsourcing, organizations get a better learning product at a better price.
The SyN Learning Institute is poised to partner with HR professionals, providing the most up-to-date training provided by cutting edge subject matter experts. We would love to help you build business acumen into your department through David Sanders' Financial Management for Non-Financial Managers and hear about your ongoing training needs as well.
Pull up a chair, and let's start our conversation today!