Office Professional Certificate Program
Speakers You Need, LLC is recognized by SHRM to offer Professional Development Credits (PDC's) for SHRM-CP or SHRM-SCP. "This program has met the HR Certification Institute's (HRCI) criteria to be preapproved for recertification credit."
CLICK HERE FOR DETAILED BROCHURE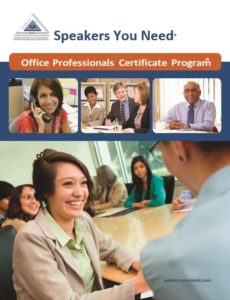 Grow Your Business From The Inside Out
Adept leaders like you know the reality. In today's workplace, sticking to the tasks listed in a job description is not enough. To enjoy long-term success, employees must be indispensable— positioned to grow and transition from role to role as the situation calls for it. Develop talent inside your organization. Show your employees how much you value them and recognize their potential by investing in their professional development. SyN's Office Professionals (OP) Certificate Program will equip these key contributors with the knowledge and skills they need to succeed … today and in the future.
DESCRIPTION:
This uniquely flexible program consists of eight comprehensive modules, or full-day courses, based on core competencies.
They cover:
Professionalism
Team Building
Management Skills
Interpersonal Skills
You can benefit from the entire skill-building curriculum by offering all eight modules. Employees who complete five or more will be awarded an Office Professional Certificate of Excellence. Post-training assessments will measure each employee's progress, helping to identify who rises to the top, and who requires more one-on-one attention. Each course includes customized workbooks, group and individual activities, and discussions that will leave participants with a practical Action Plan they can use to transfer the learning to the workplace right away!
Office Staff are vital team members. Help them expand their skill base to be successful in all their new roles. By training them today, you are preparing them for tomorrow.
For more information on training for Office Staff, contact Rocky White, Founder and CEO of SyN, LLC. He can be reached at [email protected] or 1-855-889-7625 ext. 101.